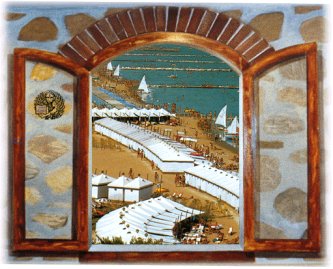 Lido, Venice's Beach Island
Lido di Venezia
Lido island is a narrow strip of land about seven miles long, separating the Venetian Lagoon from the Adriatic Sea. This quaint resort-like island is only ten minutes from the heart of Venice, Piazza S. Marco by the panoramic public waterbus, the Vaporetto. The Lido Beach (Open from June 1st through September 15th) is one of the nicest and best serviced in Europe. If desired, we can arrange a beachfront cabana rental for you. Lido is also quite child-friendly, offering parks, arcades, sports centers and movies theatres all within walking distance of the center of town.
If coming by car, this enchanting island has the advantage of hourly ferryboat service connecting it with the mainland, allowing you to park in front of your apartment. Spending your vacation in one of our Lido apartments gives you the possibility to reach Venice's historic center in no time at all, while enjoying the peaceful atmosphere of Lido, which boasts an abundance restaurants, supermarkets and recreation centers, including tennis, golf, horseback riding, swimming pools, and of course, wind surfing, waterskiing, sailing, boating and swimming at the beach! In the summer, the Casino and the world-famous Venice Film Festival add to the fun, but Lido is wonderful all year-round.
All of our apartments on Lido are centrally located, only a short walk from the Vaporetti (Public Waterbus) to Venice, Murano, and Burano. So if you love Venice, but prefer to vacation in a quieter, resort-like atmosphere, away from the crowded, streets of Venice; Lido is for you.
Check out the other points of the Italian Golden Triangle! Plan your trip to...